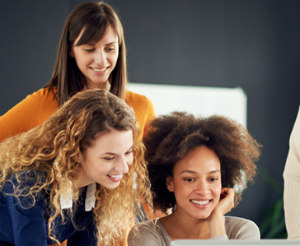 A comprehensive two-day training course for first-time managers in publishing.
Managing people for the first time can seem like a daunting prospect, even for high-achieving publishing people. This highly practical course will give new managers the core skills they need to manage confidently and successfully.
As well as providing core management skills, the course is tailored to the specific context of publishing, helping new managers to engage effectively with the challenges and opportunities they face and to support their colleagues to do the same.
Who will benefit from this course?
The course is for anyone stepping up into line management for the first time or aspiring to do so. It's suitable for first-time managers across publishing functions, in companies and imprints of all sizes.
Learn how to…
recognise core management skills and responsibilities, and what makes a good manager
make the most of your own personal management style and preferred team role
handle the transition from peer to manager
carry out everyday management skills such as recruitment, induction, appraisal and handling trouble
get the best out of a diverse team
manage change and get a handle on innovation
tackle the basics of budgeting and financial reporting
develop a network of contacts, allies and mentors
create your own personal action plan to help keep you on track when you get back to the office.
This course contributes to PUB 3 of the Book & Journal Publishing National Occupational Standards.
Programme
Day 1: Management essentials
An introduction to management: the core skills required of managers in a publishing organisation, including:
What are the responsibilities of a manager?
What makes a good manager?
What is your personal management style?
Team roles assessment to introduce you to your own strengths and weaknesses
How to handle the change from peer to manager
Basics of people management: an introduction to some tools and techniques to support a manager in running their team, including:
Interviewing skills and how to avoid hiring bias
The induction process
Giving feedback
How to deliver effective appraisals
What happens when a team member leaves
Working with publishing people: publishing houses are full of smart, questioning people, who can be cynical about traditional management techniques and organisational hierarchies. This session will focus on how to work with teams in that scenario, how to be taken seriously as a manager, and how to handle feedback and potential conflict in teams.
How to manage a diverse team
Coaching your team members
An interactive Belbin team roles workshop session introducing different working styles and how to get the best out of your team
Day Two: Industry context
Specific challenges facing the industry and how these can be addressed by managers
Managing change: change is a constant in all industries and publishing is no exception. This session will focus on how to support the manager and their teams to adapt to change as the "new normal".
Understanding the personal impacts of change on your team
The change curve and how to identify where your team members are in the process
Case study analysis to explore how to manage change effectively
Impacts within the industry: self publishing, online selling and the rise of Amazon
Managing innovation: all publishers are being forced to innovate constantly. This session will look at how to create the conditions for innovation and how to structure the processes surrounding it for the best results
Working with market data and insights to Identify goals for your innovation efforts
Product vs process innovation
Validating an idea
Prototyping and new concept development
How to put together a process for innovation
Financial management for publishers: how are publishing budgets created, and how are they measured?
Practical budget creation exercise
Understanding commonly-used financial reports
The relationship between project/book budgets and the overall company budget
Developing a network: publishing is an industry based around people; this session will give a practical insight into how to develop relationships and sustain a professional and industry network
How to handle networking situations
Societies and industry bodies
Staying up to date with industry developments
Using social media for networking
Finding allies, mentors and champions – within or outside your organisation
Personal development plan: using the insights of the previous sessions, each delegate will be supported to create a 90-day personal action plan to help them to practice the skills they have learned and ensure that the knowledge translates into actionable steps which can be implemented when they return to work.
Tutors
Terms & Conditions
A two-day course
The date shown is the first day of the course.
Dates
21 May 2018
30 October 2018
Price
£595+VAT